The Grand Lake Reserve presents a spectacular landscape, rich with biological diversity, rugged geography and beautiful scenery.  Located between Grass and Butterfield Lakes, and including more than 5 miles of shoreline, The Grand Lake Reserve offers a model of how conserved lands can provide public access for recreation and educational benefit while still preserving a unique and valuable natural resource.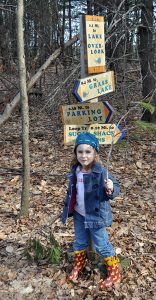 The Grand Lake Reserve was created in 2003 through a generous gift of more than 800 acres from Henry Carse, a pioneering environmentalist and civic leader, and his family.  Since then, additional acquisitions have expanded the reserve to over 1,000 acres.
The trails at Grand Lake Reserve are open dawn to dusk all year long.  Please be aware that, although the county does plow the road, during periods of heavy snow fall it may not be a top priority due to the official seasonal road designation.
Grand Lake Reserve Video Introduction
Grand Lake Reserve Parking Lot 2, the Northern parking lot (larger parking lot) may be found at 45701 Burns Road, Redwood, NY 13679. This lot is near both the entrance for the Butterfield Lake Trail and the entrance for the Grass Lake Trail.
No matter which trail you choose, there is something for everyone at Grand Lake Reserve.
Grand Lake Reserve Trail Guide
Directions to Grand Lake Reserve
Sign our digital Trail Log