Annual Fall Family Fun Day
September 28, 2019 @ 10:00 am

-

1:00 pm

Free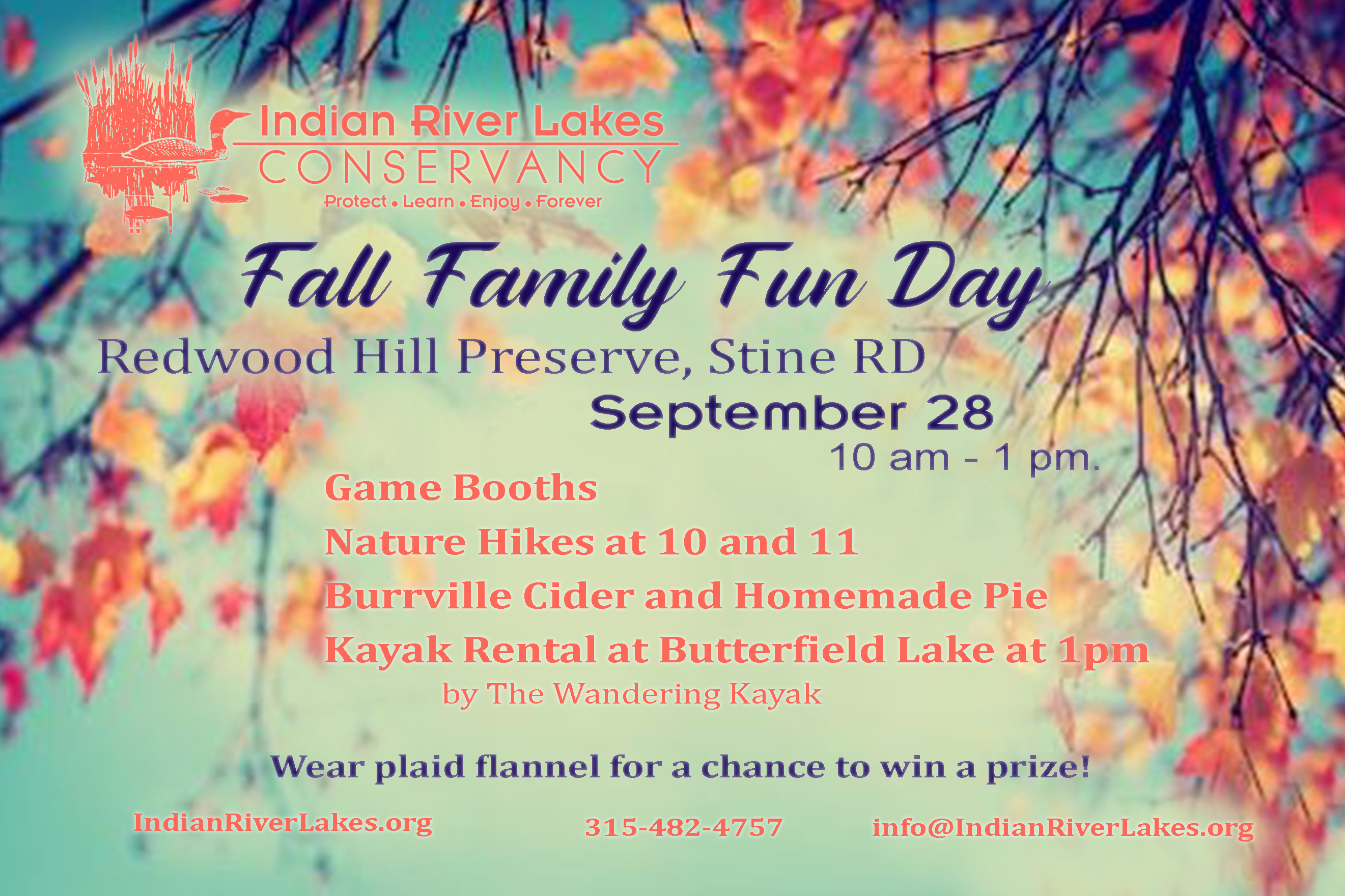 Join us for our 2nd Annual Fall Family Fun Day on Saturday, September 28th at the Redwood Hill Preserve.  
The event will run from 10 AM until 1 PM at our Redwood Hill Preserve (44010 Stine Rd, Redwood, NY) and will feature several game booths set up along the Beatrice Rosemond Trail.  Try your hand at identifying animal tracks or spider tossing. 
Each game winner will get a puzzle piece.  Then participants will join their puzzle pieces together towards the end of the event.
Short, kid-friendly hikes start at 10 and 11 AM and will be led by Sue Gwise, Horticulture and Natural Resource Educator at Cornell Cooperative Extension.
Homemade pie and cider will inspire the senses to the autumn season.
Event-goers are invited to wear plaid flannel for a chance to win a prize.
In addition, The Wandering Kayak will be renting kayaks at 1pm at the Butterfield Lake Boat Launch. Kayaking is a beginner-friendly activity.  Take this opportunity to try something new and to appreciate a beautiful local lake. Two-hour rentals are available for $25 for a single adult, $25 for a two-person kayak for an adult and child, and $35 for a two-person kayak for two adults.  Rentals will be on a first-come, first-served basis.
All ages are welcome to attend the event. 
The Beatrice Rosemond Trail and the Trailside Classroom are ADA compliant and wheelchair accessible. 
For more information, please contact the IRLC office at (315) 482-4757 or info@indianriverlakes.org