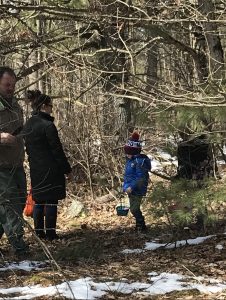 On Saturday, March 24th, five children braved the cold and set out on the bunny trails at Redwood Hill Preserve in search of over 300 Easter Eggs. Even though we had a small turnout the children were excited to find so many eggs to claim for themselves. A few eggs contained chocolate gold coin which were turned in for prizes.
Following the Easter Egg Hunt the children started their spring planting by decorating small pots and picking out flower seeds to plant. There were other crafts and snacks as well.
The IRLC appreciates the support from attendees and volunteers who helped put this event together. We hope to see many more the Birds, Blooms, and Bugs Hike at Grand Lake Reserve on May 12, 2018.