Children's Book Walks at Redwood Hill Preserve (June & July)
The IRLC Education Team has joined up with the Depauville Library to bring you two book walks – one in June and one in July. Your little ones will love this self-guided book walk along the Beatrice Rosamond trail. A book will be deconstructed and posted on signposts along the trail inviting your family to walk further and further, reading a story page-by-page as you walk! The books will be part of the Depauville Free Library's summer reading program with the theme "Tales and Tails."
Project WHIRL Summer Learning Course (age 14-18)  July 14th – August 25th
Project WHIRL (Protectors of Water and Habitat on the Indian River Lakes) is a program that brings together Environmental professionals and college-age mentors to expand high-schoolers understanding of what it means to study and work in the environmental field. We have some amazing restoration projects this summer and students will get hands-on experience working to protect, restore, and manage our water resources.
Interested in learning more about our WHIRL program, sign up here for our informational meeting Monday, June 21st at 7pm.
Baker Woods Kids' Nature Camp (ages 3-12)  Postponed
The Indian River runs through our Baker Woods Preserve in Natural Bridge, NY. Kids will learn all about the River and about Watersheds at this one-day camp. It is recommended that kids only attend one Nature Camp per summer. Request a registration form by mail here.
Project WHIRL Community Impact Day August 7, 2021
Join our 2021 Project WHIRL students as they teach the public about aquatic insects and plants- both invasive and non-invasive, environmental DNA fish tracking kits, fish ecology and inventories, water quality assessments using environmental indicators, and purple loosestrife and Eurasian Milfoil weevils. Our Project WHIRL students are spending the summer on the lakes learning "in the field" and "in the water." Stop by to talk with them about their experiences!
This event will take place at the Millsite Lake Boat Launch. No registration is necessary.
Summer Science Series

Preventing Oak Wilt  August 12th, 2021 (6pm)
Oak wilt, Ceratocystis fagacearum, is a fungal disease that moves through the vascular system (water conducting tissue) of Oak Trees. The fungus spores are carried to the tree by small beetles that feed on sap from fresh wounds. Paul Hetzler, author and well-known local naturalist, will present information all about Oak Wilt and how to prevent it.
This event will take place at the Redwood Hill Preserve Trailside Learning Center.
K-12 STEAM Educators' Workshop "Teaching about the Natural World and our Indian River Lakes Region"

 August 17, 2021
Join your colleagues in learning about how place-based education inspires interconnectedness and intersects science, technology, engineering, math, and the arts! Meet the NYS Science Learning Standards by teaching in and about the natural world. Brainstorm, plan, and leave with plans ready to go. For more info call 315-482-4747 or register here. 
This event will take place at Redwood Hill Preserve.
IRLC Water Quality Conference  August 27th, 2021
Save the date for our annual conference. We will once again bring together thought leaders on topics important to our Lake Associations and others who care about the water quality of the Indian River and surrounding lakes.  
For early bird registration, click here. Lunch is included in the registration fee. The event will take place at Redwood Hill Preserve.
Also Mark Your Calendar…
Summer Science Series will continue on August 26th at 6pm
These nature talks keep our conservation-minded friends abreast of topics of concern in our local area. Stay tuned for the line-up of this summer's speakers. We hope to see you all in our Trailside Learning Classroom this summer, and attendance via Zoom may also be available.
Eurasian Watermilfoil Strike Force
This summer, lake residents who are battling Eurasian Watermilfoil around their docks or shorelines in shallow water can send a photo to our volunteer task force to request our Strike Force to pull plants at their site. If you are interested in helping with weed-pulling or you need help with invasive weeds near your home, fill out this form.
Show your Love for the Indian Riv

er Lakes Re

gion!
Becoming a member of the IRLC helps protect your favorite places! Your membership dollars go toward protecting land, forests, clean water and clean air for everyone.  Year after year we work to make open spaces available to the public, to help keep our lakes clean, to educate our youth, and to protect our iconic and wondrous wildlife. Make a difference in your life as well as the lives future generations. Help keep the Indian River Lakes Region a pristine landscape!
Click here to become a member.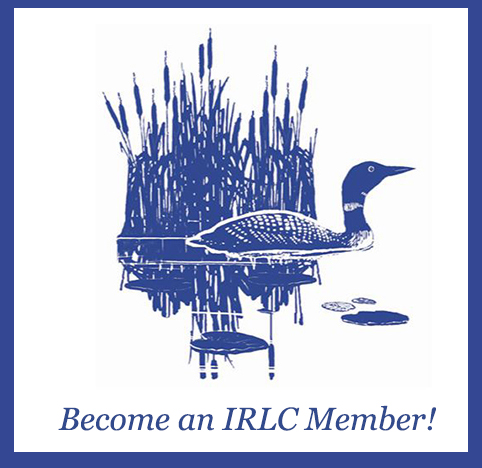 Did you miss a presentation? See it on IRLC's YouTube Channel
Recordings of speakers' presentations are available on our YouTube channel.
Visit our Facebook page for wonderful photos of our past events, including our Hikes, Nature Walks, Summer Moonlight Paddle, and Celebration of Lakes.
You can help support our programs year-round by making a donation or becoming a member today. Click here for our easy online donation form, or call us at 315-482-4757 for more information. Our members make land conservation, education, and outdoor fun possible for the whole community. Thank you!
You can also keep in touch with us by adding your name to our list. You'll receive monthly newsletters by email and three publications about the Indian River Lakes Region by mail each year. We look forward to connecting with you!