Children's Book Walk at Redwood Hill Preserve 
The IRLC Education Team has joined up with the Depauville Library to bring you this book walk. Your little ones will love this self-guided book walk along the Beatrice Rosamond trail. A book will be deconstructed and posted on signposts along the trail inviting your family to walk further and further, reading a story page-by-page as you walk! The books will be part of the Depauville Free Library's summer reading program with the theme "Tales and Tails." Visit this book walk until October 15th, and the next book walk will begin on that date with a new theme.
Flying into Fall – Family Fun Event  September 25, 2021 at 10am
We welcome all ages – toddler to adult – to join us to explore the world of Raptors with Mark Manske, an Adirondack Wildlife Rehabilitator. Mark will bring live birds and families can get up close and personal with these amazing creatures. After, you can dissect an owl pellet with our Project WHIRL students, paint pumpkins, enjoy a fall scavenger hunt, or listen to a fall Children's Story read aloud. 
Make sure to wear plaid for #1 the great photo opp, and #2 a chance to win a prize basket! Pumpkin coffee & seasonal snacks too!
To learn more and see the flyer, visit our facebook page.
This event will take place at the Trailside Learning Center at Redwood Hill Preserve. Registration is not required but is appreciated. Email Heidi hsourwine@indianriverlakes.org.
Fort Drum Girl Scout Hike  October 2nd at 10am
We welcome the Fort Drum Troop NY SU 512 to spend a day learning about Grand Lake Reserve and its wildlife in the Autumn Season. This is the first of three hikes planned for the 2021-2022 school year. Girls who attend all three will receive a badge. Wear pants, good hiking shoes, and bring water & a snack. See you on the Trail!
This event will take place at the Grand Lake Reserve. Girls in grade 2 and up will meet at Parking Lot #2. Girls in Kindergarten and First Grade will meet at Parking Lot #1. Parents welcome. Sign up in advance with your Troop Leader.
Hyde Lake Association Meeting    October 9th, 2021 10am
The Hyde Lake Association has been revived and is meeting in our Trailside Learning Center. For more information, contact Andy Brunet at afb2650@verizon.net.
Autumn Hike at Baker Woods Preserve  October 16th, 2021
Baker Woods is a special preserve located in Natural Bridge, just outside the Blue Line,  and it is spectacular in the Fall. Sue Gwise, Cornell Cooperative Extension, will lead us along the trails and speak to nature's seasonal cycles in the Indian River Lakes Region. We are likely to see colorful foilage and a myriad of mushrooms. We will meet at 10am at the Trail Kiosk near the parking lot.
Registration is not required but is appreciated. Email Heidi hsourwine@indianriverlakes.org to register.
Fall Field Trips    
The IRLC welcomes your class or homeschool group to visit one of our three public preserves. To schedule a field trip or "forest trip," email Heidi at hsourwine@indianriverlakes.org.
Show your Love for the Indian Riv

er Lakes Re

gion!
Becoming a member of the IRLC helps protect your favorite places! Your membership dollars go toward protecting land, forests, clean water and clean air for everyone.  Year after year we work to make open spaces available to the public, to help keep our lakes clean, to educate our youth, and to protect our iconic and wondrous wildlife. Make a difference in your life as well as the lives future generations. Help keep the Indian River Lakes Region a pristine landscape!
Click here to become a member.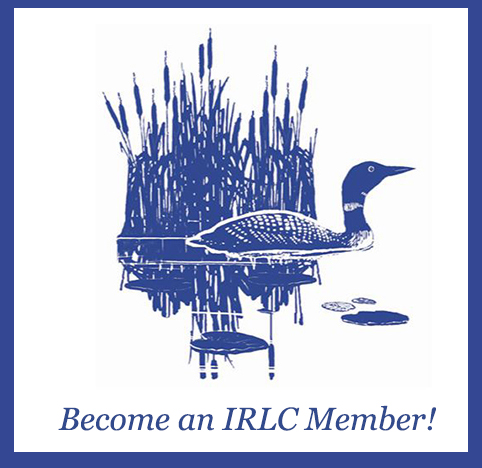 Did you miss a presentation? See it on IRLC's YouTube Channel
Recordings of speakers' presentations are available on our YouTube channel.
Visit our Facebook page for wonderful photos of our past events, including our Hikes, Nature Walks, Summer Moonlight Paddle, and Celebration of Lakes.
You can help support our programs year-round by making a donation or becoming a member today. Click here for our easy online donation form, or call us at 315-482-4757 for more information. Our members make land conservation, education, and outdoor fun possible for the whole community. Thank you!
You can also keep in touch with us by adding your name to our list. You'll receive monthly newsletters by email and three publications about the Indian River Lakes Region by mail each year. We look forward to connecting with you!