Snowy Sleuthing @ Redwood Hill   February 17th – 28th, 2021
Walk the trail at Redwood Hill and look for the signs posted along the way. Each has a riddle and a clue! Can you guess who made the track? Read the wintry poetics with your family and then peek inside the fold-out to find the answer! Come anytime dawn until dusk. This is a do-it-on-your-own activity.  Make sure to stop in the trailside learning center to grab a take-home tracks notebook on your way out!
Together at Home: "Bats, A Local Threatened Species" Virtual Presentation  February 20th, 2021  
Join DEC's Angelena Ross to learn about Bats and all about the role they play in ecological systems, both in the Indian River Lakes region and around the world. We need bats, so let's protect them together.
Register here to receive a link.
Environmentally-friendly Gardening Zoom Presentation  March 20th, 2021 at 12pm
The third in our series of nature talks co-hosted with the Depauville Library. Sue Gwise, master gardener, will give you tips for protecting our soils and insects while producing great plants this year. Live question & answer session with Sue following the talk. More info to come!
Club WHIRL Hemlock Wooley Adelgid Hike @ Baker Woods Preserve March 27th, 2021
SLELO PRISM's Megan Pistolese will teach us how to observe our Hemlock population for this invasive species. All ages welcome. Email info@indianriverlakes.org for details or to sign up. More info on Project WHIRL here.
Birds, Blossoms, & Bugs Hike  May 15th, 2021
This hike is an IRLC favorite. All three B's deserve our attention after a long winter. Join us in observing and celebrating the wildlife and plantlife of our region. More info to come!
Vernal Pool Hike  May 22, 2021
Explore this spring phenomena. Get your hands wet looking for frogs, salamanders, and other creatures. More info to come!
Show your Love for the Indian River Lakes Region!
Becoming part of the IRLC helps protect your favorite places! Your membership dollars go toward protecting land, forests, clean water and clean air for everyone.  Year after year we work to make open spaces available to the public, to help keep our lakes clean, to educate our youth, and to protect our iconic and wondrous wildlife. Make a difference in your life as well as the lives future generations. Help keep the Indian River Lakes Region a pristine landscape!
Click here to become a member.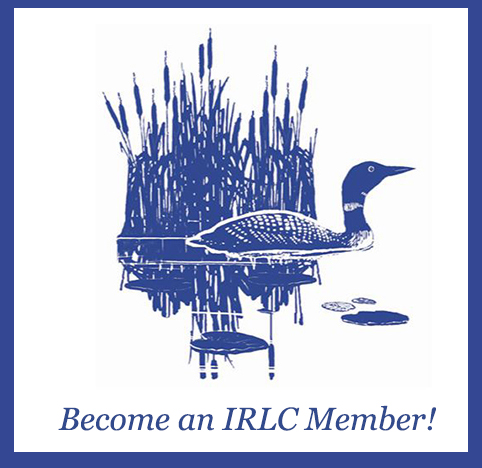 Did you miss a presentation? See it on IRLC's YouTube Channel
Recordings of speakers' presentations are available on our YouTube channel.
Mark Your Calendar Summer 2021
Summer Science Series  June 10th & 24th, July 8th, August 12th & 26th
These nature talks keep our conservation-minded friends abreast of topics of concern in our local area. Stay tuned for the line-up of this summer's speakers. We hope to see you all in our Trailside Learning Classroom this summer, and attendance via Zoom will also be available.
Project WHIRL Summer Learning Course (age 14-18)  July 12th – August 20th
Project WHIRL (Protectors of Water and Habitat on the Indian River Lakes) is a program that brings together Environmental professionals and college-age mentors to expand high-schoolers understanding of what it means to study and work in the environmental field. We have some amazing restoration projects this summer and students will get hands-on experience working to protect, restore, and manage our water resources.
Redwood Hill Kids' Nature Camp (ages 3-12)  July 13th – 15th
This camp consists of three days of Environmental Education in the woods of Redwood Hill! Students will complete hands-on projects, play games, and learn concepts around land and water protection. 
Celebration of the Lakes  July 24th, 2021
Our annual gala will feature live music, wine, and a silent auction to be held at the beautiful Bella Brooke Vineyard near Black Lake
Baker Woods Kids' Nature Camp  August 3rd – 5th
Our newest program, this Kids' Nature Camp will mirror our Redwood Hill Camp, but it is set at our beautiful Baker Woods Preserve in Natural Bridge, NY. There's no better place to learn about science than in the great outdoors. This camp is all about getting your hands dirty and warming your hearts to the land, water, and wildlife that make up the unique Indian River Lakes Region.
IRLC Water Quality Conference  August 27th, 2021
Save the date for our annual conference. We will once again bring together thought leaders on topics important to our Lake Associations and others who care about the water quality of the Indian River and surrounding lakes.  
Visit our Facebook page for wonderful photos of our past events, including our Hikes, Nature Walks, Summer Moonlight Paddle, and Celebration of Lakes.
You can help support our programs year-round by making a donation or becoming a member today. Click here for our easy online donation form, or call us at 315-482-4757 for more information. Our members make land conservation, education, and outdoor fun possible for the whole community. Thank you!
You can also keep in touch with us by adding your name to our list. You'll receive monthly newsletters by email and three publications about the Indian River Lakes Region by mail each year. We look forward to connecting with you!