Together at Home: Dr. Diana White's Milfoil Research   January 16th, 2021  
Diana White, Clarkson University, is a Mathematical Biologist. Her recent work focuses on developing a mathematical model to study the spread and control of invasive watermilfoil, an invasive aquatic plant using sustainable control methods such as benthic mats and milfoil weevils (Euhrychiopsis Lecontei). Diana White is originally from Newfoundland, Canada and now lives in Norwood, NY. This event will start at 12pm.
Winter Wonderland Hike @ Redwood Hill   February 13th, 2021  
Join us to hike both the Beatrice Rosamond and Seven Oaks Trails at Redwood Hill. Kim Cullen, naturalist and environmental educator, will point out tracks and other interesting sites along the way. Bonfire and hot cocoa to follow. Social distancing and masks required. Sign up required and numbers limited.  The hike will start at 1pm. (All Ages Activity)
"Bats, A Local Threatened Species" Virtual Presentation  February 20th, 2021  
Join DEC's Molly Farrell and Angelena Ross to learn about Bats and all about the role they play in ecological systems, both in the Indian River Lakes region and around the world. We need bats, so let's protect them together.
Show your Love for the Indian River Lakes Region!
Becoming part of the IRLC helps protect your favorite places! Your membership dollars go toward protecting land, forests, clean water and clean air for everyone.  Year after year we work to make open spaces available to the public, to help keep our lakes clean, to educate our youth, and to protect our iconic and wondrous wildlife. Make a difference in your life as well as the lives future generations. Help keep the Indian River Lakes Region a pristine landscape!
Click here to become a member.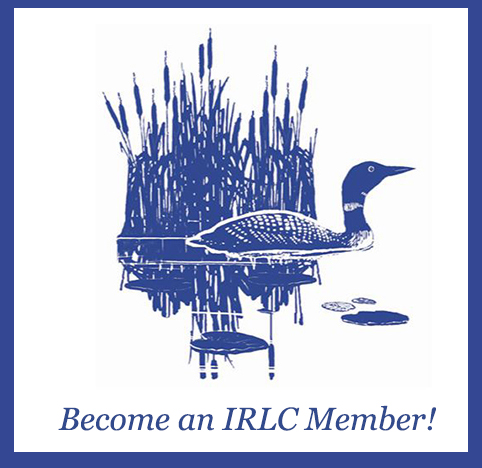 Did you miss a presentation? See it on IRLC's YouTube Channel
Recordings of speakers' presentations are available on our YouTube channel.
Mark Your Calendar Summer 2021
IRLC Water Quality Conference  June 4th, 2021
Save the date four our annual spring conference. We will once again bring together thought leaders on topics important to our Lake Associations and others who care about the water quality of the Indian River and surrounding lakes.  Registration will open in May 2021.
Celebration of the Lakes  July 24th, 2021
Our annual gala will feature live music, wine, and a silent auction to be held at the beautiful Bella Brooke Vineyard near Black Lake
Visit our Facebook page for wonderful photos of our past events, including our Hikes, Nature Walks, Summer Moonlight Paddle, and Celebration of Lakes.
You can help support our programs year-round by making a donation or becoming a member today. Click here for our easy online donation form, or call us at 315-482-4757 for more information. Our members make land conservation, education, and outdoor fun possible for the whole community. Thank you!
You can also keep in touch with us by adding your name to our list. You'll receive monthly newsletters by email and three publications about the Indian River Lakes Region by mail each year. We look forward to connecting with you!