Volunteering is a great way to support the Indian River Lakes Conservancy's mission, spend time outdoors, and meet new friends.  You can be a partner in our ongoing work to protect the land and water quality of the Indian River Lakes region.  Let us know if you're interested in getting involved with IRLC and joining our volunteer team.  We would be happy to match you with a volunteer position that fits your interests. Whether you volunteer for a few hours at a stewardship work party or make a longer, ongoing volunteer commitment, you will play an important part in protecting this region's unique landscapes, forever.
Why Volunteer?
Meet people who share your passion for nature
Learn new skills or share your skills with others
Enjoy fresh air, beautiful scenery, and abundant wildlife
Help preserve the unique natural character of this region
Here are some of the ways you can get involved.  There are many ways to join our team!  If you don't see something here that fits your skills and interests, let us know how you'd like to help.
Click here to sign up and we'll find a great opportunity for you.
Or contact us at indianriverlakes@gmail.com for more information.
Download or print our volunteer brochure.
Help on Trails & Preserves
Conservation Land Stewards
Conservation Land Stewards agree to help preserve the integrity of a defined parcel of IRLC property. Conservation Land Stewardship also offers an attractive opportunity for a family or outing group to help the IRLC meet both its legal and moral obligation to preserve and protect the lands in its care.  Land Stewards will be guided by the Baseline Studies, Conservation Management Plans and boundary surveys of their selected parcel
Trail Stewards
Trail Stewards will monitor and maintain a segment of the trails on Grand Lake Reserve, Boyd Pond, or Redwood Hill Preserve.  Trail Stewardship offers a fun opportunity for a family or outing group to get outdoors while helping maintain a portion of the trail system that IRLC has developed for the enjoyment and enrichment of the community.  6-8 hours per month, seasonal.
 Help with Events & Education
Hike/Paddle Guide
This position is for anyone who enjoys being outdoors and sharing knowledge and skills with
others.  Volunteers will help plan, schedule and lead hikes on IRLC preserves and paddles on the lakes and river within the watershed.  2-4 hours per month, spring, summer, fall.
Public Program Educators
IRLC is looking for some special volunteers. Special, meaning you have unique talents or interests you are willing to share.  Are you fascinated by wildflowers, birds, bugs, geology, or photography?  Do you enjoy gardening with native plants or fun projects using unique mediums?  Then this is the opportunity for you!  2-4 hours per month, flexible.
Community Outreach
This opportunity is perfect for outgoing people who enjoy interacting with others.  Volunteers will set up tables at various community events around the watershed to provide information
about IRLC and our projects and programs.  Do you enjoy meeting new people?  Are you a hiking or paddling enthusiast?  Passionate about conservation?  Do you like introducing people to new adventures?  Then this is the opportunity for you!
Speakers Bureau Presenters
This special group of volunteers takes IRLC's message on the road.  Speakers bureau presenters will strengthen IRLC's connections with people across our service area by presenting programs to groups such as scouts, hiking and paddling clubs, fishing and hunting clubs, and community service organizations.  Presenters reach out to community groups to schedule and make presentations.  If you enjoy public speaking and helping to develop presentations, then this is your chance to make a difference!  2-4 hours per month year round
Event Volunteers
This position is for great anyone that enjoys organizing events and working with others. Volunteers may assist with many different aspects of an event including preparation before the event, setting up on the day of the event, assisting with tasks during the event, and clean up after the event.  Time commitment varies depending upon the size of the event and volunteer interests.
Help Protect Water Resources
Lake Association Project Leaders
This job is for anyone who is interested in helping new or small Lake Associations form, operate, expand and increase their effectiveness.  Through education, coaching and collaboration, project leaders will work with Lake Association officers to assist them with areas of concern.  4-6 hours per month, seasonal.
Water Sampling/Monitoring Team
Calling all scientists, citizen scientists and those who would like to learn more about our water resources!  Help develop and implement an Indian River Watershed Water Monitoring Program. This is a fundamental activity to guide decision making on wise stewardship of our water resources.  Time commitments will vary and are reasonably flexible for each role: designing the program, carrying out the sampling, interacting with testing labs, compiling the data and generating reports.  6-8 hours per month, seasonal.
Watershed Mapping & GIS Coordinator
This job is for anyone who loves the land and exploring what we can learn from GIS data and mapping of the spectacular natural features of the Indian River Watershed.  Work with our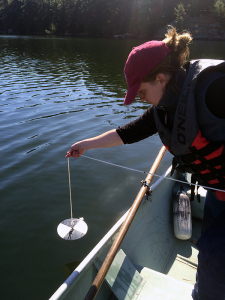 partners, St Lawrence University, RCAP Solutions and County Planning Departments to get the groundwork in place on this important piece required to advance the preparation of an Indian River Watershed Management Plan.  Time commitment flexible.
Help Outside by Staying Inside
Marketing & Communications Assistant
IRLC needs a detail oriented, tech savvy individual to help with a wide variety of communications and marketing tasks.  This person may help keep IRLC's website up to date, post events on e-calendars, write and send press releases, produce bulk emails using MailChimp, or help expand the IRLC's reach using a variety of social media outlets.  6-8 hours per month with seasonal fluctuations.
General Office Volunteer
Do you support IRLC's mission, but prefer to work indoors?  Help is always needed for a wide variety of daily office work such as preparing mailings, copying, filing, and organizing.  Time commitment is flexible, year round.
Mystery Volunteer
Do you have an idea or a special skill that you'd like to contribute?  Contact us about how to get involved!