IRLC and the Depauville Free Library present

Consider the Trees, Especially the Very Old Ones
Thursday, July 13     6:30 pm
at the Redwood Hill Preserve
44010 Stine Road, Redwood
Everyone should hug a tree at least once in their lives and some trees are big enough for 2 or 3 people to hug at once!  These giant old trees are becoming harder to find.  Join Susan Gwise as she discusses the big tree project and learn how to recognize old growth trees and just why these ancient denizens of the forest are so important.


This program is best for adults and older teens.
Free and open to the public.  Donations are gratefully accepted.
Registration is apprecicated.

The Summer Science Digest series is an education program partnership of the                                          Indian River Lakes Conservancy and the Depauville Free Library.
This program will take place at the Redwood Hill Preserve, 44010 Stine Rd., Redwood.  click for map
About the Presenter
Sue Gwise has been the Horticulture Educator and Master Gardener Coordinator at Cornell Cooperative Extension of Jefferson for the past 16 years.  She has a degree in Horticulture from Morrisville College and has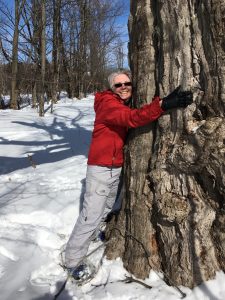 worked as a greenhouse manager and as a garden designer for the New York State Fair and Oakwood Cemetery in Syracuse, NY.  Sue is a member of Tree Watertown and the SLELO PRISM.  She owns a potato and blueberry farm in Rodman.  An empty nester, Sue resides in Dexter with her husband who tolerates her endless hikes and tree observations.  She also has a dog that loves those endless hikes and he happily listens to her tree chatter!